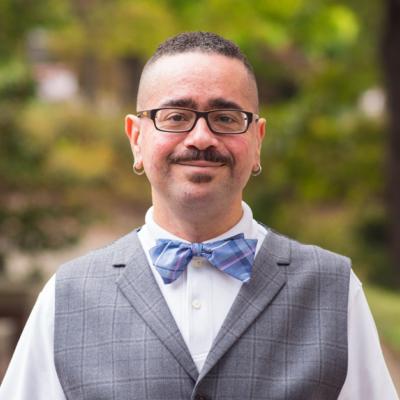 Pedro E. Alvarado was born and raised in Columbus, Ohio. He began acting at age 13 and has been involved in theater ever since. In June 1990, Pedro graduated from Northland High School and Fort Hayes School for the Performing Arts. At these two schools, Pedro formed two significant relationships with theater teachers; Mr. Charles Lewis and Dr. Philip Wilson.
Under their tutelage, Pedro began to explore various aspects of theater production. From acting, to set design and construction, and box office management, he learned that it takes many different people with many different skill sets to create a theatrical production. Moreover, he learned that good theater requires an ensemble effort.
Pedro completed a Bachelor of Interdisciplinary Studies Degree in Theatre Performance at Georgia State University in 2015, an M.A. in Religious Studies at GSU in 2018, and he's currently working on a Ph.D. in Theatre and Performance Studies at the University of Georgia. His main area of research is the canon of August Wilson and his first essay was recently published in The Routledge Companion to African American Theatre and Performance.
In addition to his academic achievements, Pedro has won the Kennedy Center American College Theatre Festival New Play Project Directing Award. He currently serves as the Education Director of the August Wilson Society and is a member of the Board of Directors of the Morton Theatre Corporation. He is married to Anastasia Alvarado and together they have an irascible Pit Bull/Chihuahua named Roxie. He is also a proud member of Iota Phi Theta Fraternity, Incorporated.
Of note:
Lee Roy B. Giles Encouragement Award, Institute of African American Studies, University of Georgia (May 1, 2019)
Selected Publications

Selected Publications:

"Pittsburgh Piety: A Century of Symbolism," in The Routledge Companion to African American Theatre and Performance, edited by Kathy A. Perkins, Sandra L. Richards, Renée Alexander Craft, and Thomas F. DeFrantz, Routledge Publishing, (December 2018)