Image: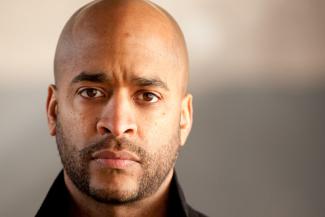 This Spotlight on the Arts event brings together five UGA faculty from the Grady and Franklin Colleges to discuss their recent work on the short film "American Triptych," written and directed by Booker T. Mattison (Entertainment and Media Studies). As the movie's press book explains, "Three American lives are radically changed during the tumultuous summer of Covid-19. 'American Triptych' dramatically explores food insecurity, homelessness, xenophobia, and police brutality - all exacerbated by a nation divided and a rising tide of uncertainty."
Advance registration for the event, which will be conducted via Zoom webinar, is required and available here.
In addition to Mattison, participants include producer Shandra L. McDonald, art director Julie Ray, costume designer Ivan Ingermann, and editor Bryan Gunnar Cole (all from Theatre and Film Studies). All five panelists are involved in teaching within UGA's new MFA program in Film, Television, and Digital Media.
This roundtable on "American Triptych," which is due out in December, will allow panelists to discuss their creative collaboration and the process of movie making in Georgia. The panel is moderated by Richard Neupert (Film Studies) and the audience will be invited to submit questions.
The event is part of the university's Spotlight on the Arts festival. More information on the 2021 Spotlight on the Arts festival, including a schedule of events, can be found at arts.uga.edu as well as on the Arts Council Facebook page (facebook.com/UGAarts), Twitter feed (@UGA_arts) or Instagram (instagram.com/uga_arts).