Image: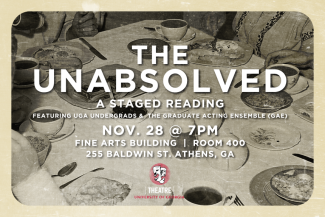 Athens Playwrights Workshop will present a new play reading on Wednesday, November 28, 7:00 PM in the Fine Arts Building, Room 400. 
"The Unabsolved" by Ray Paolino will be given a concert reading for the public. Paolino is a faculty member in the Department of Theatre and Film Studies and has been an actor and director with extensive credits in New York City as well as the Midwest and Southwest.
"The Unabsolved" is a full-length play about a family in the northeast U.S. going through generational changes during a time between eras. As the country is facing new cultural and political challenges in the mid 1960s, the Brennan family is being torn by adherence to old-world habits and the winds of change in a younger generation. An upcoming marriage, an impending departure from the family, addiction, and a tussle with the church—bring out the deep divisions in the family.
The cast includes members of the Graduate Acting Ensemble (UGA's resident MFA actors) and talented undergraduate actors.
Following the reading will be an audience response session, moderated by Athens Playwrights Workshop leader, professor John Bray. Audience members are encouraged to stay and offer their feedback to the playwright.