Image: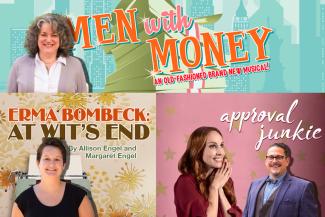 While the bustling theatre scene in Atlanta has its fair share of artisans, theatres still utilize current UGA faculty and graduate students for their productions, not to mention the alumni who occupy both the spotlight and backstage areas. 
Head of Design Ivan Ingermann is currently serving as lead costume designer for the world premiere of Faith Salie's one-woman show Approval Junkie. The show will premiere at the Alliance Theatre in Atlanta on April 5 on the Hertz Stage. 
Associate Professor Julie Ray, a veteran of scenic design for both stage and screen, is working on her own world premiere musical, Men with Money, with Aurora Theatre in Lawrenceville, GA (which itself was cofounded by UGA alumnus Anthony Rodriguez, who serves now as co-artistic director). Men with Money premieres on March 7, 2019. Later in the same month, Aurora's lab series production of Erma Brombeck: At Wit's End will be designed by current MFA Scenic Designer Liz Gubler.