Image: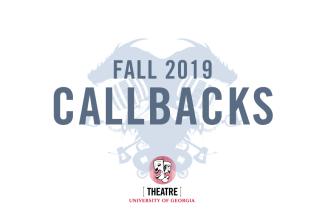 Enter the Fine Arts Building from the back doors for all callbacks.
She Kills Monsters by Qui Nguyen
Callback List
Director:                     T. Anthony Marotta
Callback Time:             Sunday, August 25 from 10am-2pm
Callback Location:      Fine Arts 352
Prepare: The callback will consist of physical ensemble work and readings from the script. Please wear clothing that you are comfortable moving in and can roll around on the ground with. Please be familiar with Qui Nguyen's She Kills Monsters script. We will focus on the following scenes: 
•       Pg 7: Narrator [introductory epic monologue]
•       Pg 20: Vera & Agnes [Introduction to Vera]
•       Pg 29: [Farrah pwns Orcus]
•       Pg 30: Chuck & Miles [Dungeon Master misunderstanding]
•       Pg 32: Tilly, Lilith, & Agnes [Agnes finds out Tilly is gay]
Who: All who auditioned during the General Auditions are being considered for the She Kills Monsters cast. If you are not on this list, you may still be under consideration for this production. The following performers are called back on Aug 25 for additional time with the script and director:
Marika Carlson

Chandler Poole

Jacob Dannenfelser
Jack Dugan

Doug Goodwin

Hannah Hardin

Collin Hendley

 

Rachel Hoover

Savanah Hudson

Sydney Wakeford

Vivian Lee-Boulton
Greg Lloyd

Hannah Manning

Emma Mathews
Bryson Parker
Lucas Parker
Kendal Reeves
Jacob Rynne
Nick Schwarzmann

Sophie Tisinger

Michaela Wilkins
Niagra Falls Callbacks
Thanks to everyone who auditioned!
It was terrific to see so many  new faces! 
If you did not get called back, please audition again in the future!   
If you are interested in being involved in other aspects of the production please contact George Contini, gcontini@uga.edu.
Actors called back are listed below.  Please check all roles as you may be called back for more than one character.   Also Women, you might be called back for a role that was originally written for a man.  We might be switching gender for that role.
Callbacks will be tomorrow (Saturday) from 1-5 in Room 115.   Please arrive 15 minutes before callbacks to check in.   
Everyone is called for the first hour from 1-2 for a group callback.   
All the women called for Linda, will you please prepare a short song in the style of opera?  You can sing The Star Spangled Banner if you can't think of anything.
Then we will read sides and will release you as we go.   Please do not leave the audition until checking in with our Stage Manager.   Sides can found on the UGA Theatre website.  Please download and copy your sides and bring them with you.  We will not have copies at callbacks.
 Avery:  
Daja Rice
Brooke McCarthy
Savannah Hudson
Hailey Carter
Abby Smithwick
Ciara Pysczynski
Eva Ramirez
Marianne LaMarche
Rachel Hoover
Vivian Lee-Boulton
Jack:  
David Cowan
Sean Birkett 
Jackson Miller
Jefferson Robinson
Wyatt Brooks
Jacob Dannenfelser
Jack Dugan
Greg Lloyd
Chad Dyer
Ben:  
Shanon Weaver 
Sean Birkett
David Cowan 
John  Galas
Anthony Gagliardi
Jared Solovei
Nick Schwarzmann
May:
T Lynn Mikeska 
Robyn  Accetta
Brooke McCarthy
Atty Siegel
Daja Rice
CiaraPysczynski
Marika Carlson
Hannah Manning
Vivian Lee-Boulton
Toby: 
David Cowan 
Shanon Weaver 
Jackson Miller
Jefferson Robinson
Jacob Dannenfelser
Greg Lloyd
Chad Dyer
Linda: 
Brooke McCarthy 
Daja Rice 
T Lynn Mikeska
Roni Nash
Hannah Hardin
Marika Carlson
Hailey Carter
Eva Ramirez
Kendal Reeves
Vivian Lee-Boulton
Bale:  
David Cowan
Sean Birkett 
Shanon Weaver 
T Lynn Mikeska
Daja Rice
Max:  
John Galas 
Sean Birkett
Will Cole
Doug Goodin
Wyatt Brooks
Sean Turner
Jared Solovei
Greg Lloyd
Nick Schwarzmann
Cliff:  
John Galas 
Collin Hendley
Doug Goodin
Wyatt Brooks
Sean Turner
Essa:  
Robyn Accetta  
Atty Siegel
Chandler Poole 
Brooke McCarthy
Roni Nash
Daja Rice
Hannah Hardin
Hannah Manning
Marika Carlson
Savannah Hudson
Hailey Carter
Olivia Bell
Eva Ramirez
Sydney Patton
Dan:
Collin Hendley
Will Cole
Jackson Miller
Wyatt Brooks
Jacob Dannenfelser
Jack Dugan
Greg Lloyd
Chad Dyer
Jacob Rynne
Jane:
Nala McCamy
Sydney Patton  
Roni  Nash 
Savannah Hudson
Marianne Lamarche 
Rachel Hoover 
Abby Smithwick 
Eva Ramirez
Lilly Summerlin
Chandler Poole
[The Georgia Incarceration Performance Project] presents: By Our Hands
Many thanks to all who auditioned. Due to the unique structure of the project and collaboration, we are calling back only those who are available for our rehearsal calendar for an ensemble audition.
Callbacks will take place in Fine Arts Room 352 on Sunday, Aug. 25, 2:30-5:30pm. The entire ensemble will attend the full 3-hour block. Come dressed to move, and ready to play, read, and sing a capella. In advance of the audition, please read our audition packet and sides (available on the departmental website). Please fill out the interview questions (p. 7 of the packet) and (1) bring a hard-copy of your answers with you to callbacks and (2) email them to us (addresses below). 
 We look forward to working with you during callbacks. For questions, please contact both Drs. Amma Y. Ghartey-Tagoe Kootin (dramma@uga.edu) and Emily Sahakian (sahakian@uga.edu) 
Ensemble
Sophie Tisinger 
Marika Carlson
Sydney Patton 
Hunter Creswell
Chandler Poole
Taylor Nicholson
Claire Holman
Jacob Dannenfelser
Olivia Bell
Jack Dugan
Shannon McCarthy