Image: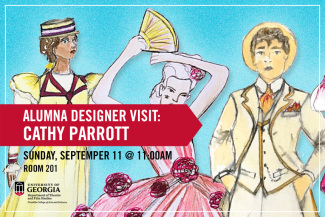 Costume Designer Cathy Parrott (MFA 2005) Visit
Sept. 11 @ 11:00AM
Room 201
After graduation Cathy has gone on to work with a number of Tony Award-winning costume designers, primarily as an Associate Designer on a wide array of notable Broadway shows such as Diana, Tootsie, Bullets Over Broadway, Motown the Musical, Porgy and Bess, Young Frankenstein, Curtains, and The Drowsy Chaperone.
Her film and television credits include The Greatest Showman, In the Heights, Dr. Death, and Tales of the City. Currently she is Assistant Costume Designer to Oscar winning Ruth Carter on a new film shooting in metro-Atlanta.
Cathy will be returning to her alma mater on Sunday Sept 11th at 11am in room 201 of the Fine Arts Building for a Meet-n-Greet and discussions about her career and the state of working in the entertainment industry today. 
All students interested in the theatre, film, and television production are welcome to attend.
Those with special interest in Costume Design should bring materials to be reviewed and commented on.