Image: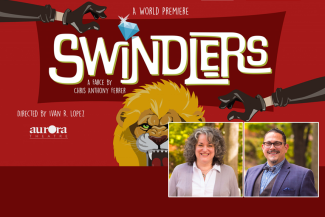 Aurora Theatre, co-founded by Department of Theatre & Film Studies alumnus Anthony Rodriguez, will be producing the world-premiere of a new farce by playwright Chris Anthony Ferrer called Swindlers. Aurora has also enlisted two of the department's sitting faculty members in design roles behind the scenes – Julie Ray as scenic designer and Design Area Head Ivan Ingermann as costume designer. 
Jim Kierstead and William Fernandez, founders of producing partners Broadway Factor, have said that, "working with Aurora has been an incredible experience. The work they do is definitely Broadway quality. They have treated Swindlers wonderfully. They are a true testament that top notch work is being done outside New York."
From Aurora's Website: 
Swindlers is a hilarious new farce that centers around bungling burglars, Jerry and Miles, who are set to make easy pickings of a millionaire Miami mansion. Things become complicated as the situation turns wildly hysterical in a circus of window breaking, code name using, bear skin rug scaring, people killing events that reveal a chance for these small-time crooks to make the biggest score of all time. The madcap caper? Finding the $300 million diamond first and getting out alive!
Swindlers opens May 19 and runs through June 5. Tickets can be purchased at auroratheatre.com