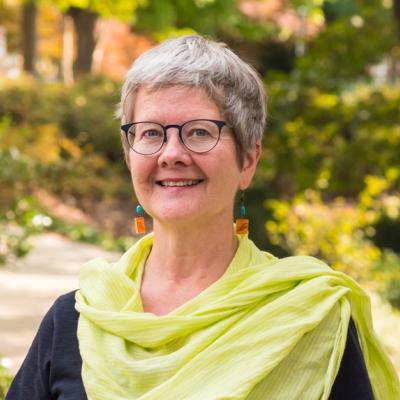 Professor
Graduate Coordinator
History and Theory Area Head
Contact Info
Office Hours:
T, R 11-12 and by appointment
Marla Carlson's Affect, Animals, and Autists: Feeling Around the Edges of the Human in Performance (University of Michigan Press, 2018) brings animal studies and disability studies into conversation with performance studies to consider what it means to be human in the twenty-first century and how we might move toward a more equitable, reciprocal relationship with other creatures and with those previously relegated to the fringes of humanity. Performing Bodies in Pain: Medieval and Post-Modern Martyrs, Mystics, and Artists (Palgrave Macmillan, 2010) examines spectator response to performances of physical suffering in twenty-first century New York and fifteenth-century France. She is currently working on an article about a violent entertainment featuring four blind men and a pig staged in Paris, 1425. Marla's work in physical theatre and dance continues to inform her scholarship as well as her directing at UGA. Dr. Carlson began a three-year term as President of ASTR in November 2018.
Education:
PhD in Theatre, City University of New York Graduate School
MFA coursework, Goodman School of Drama
BA in Theatre, Lewis and Clark College
Research
Of note:
Gerald Kahan award from the American Society for Theatre Research for "Looking, Listening, and Remembering: Ways to Walk New York After 9/11," published by Theatre Journal in 2006.
Outstanding Mentoring Award from UGA Graduate School in 2013
Courses Regularly Taught

Courses Regularly Taught: