Image: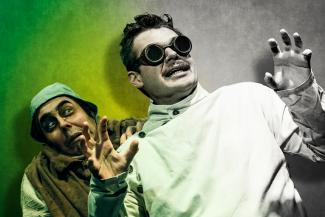 ATHENS, GA – UGA Theatre presents "Young Frankenstein" by Mel Brooks and Thomas Meehan. Directed by Professor George Contini and co-directed by alumnus John Terry. Performances will be held  April 5–6 and 10–13 at 8 p.m. and April 7 & 14 at 2:30 p.m. in the Fine Arts Theatre at 255 Baldwin St. Tickets are $16 and $12 for UGA students and can be purchased online at ugatheatre.com/youngfrank, via phone at 706-542-4400, or in person at the Performing Arts Center or Tate Center box offices.
 
Based on Mel Brooks' comedic masterpiece, "Young Frankenstein" injects the now-classic story of the inept Frederick Frankenstein with music and dance, breathing new life into Frankenstein's unwitting quest to continue his grandfather's notorious legacy. Hijinks ensue as Frederick is joined by the bumbling Igor, the aloof Inga, and the prudish Elizabeth – culminating in the creation of the Monster – a far more lascivious and "abnormal" version of his grandfather's experiment. 
 
In staging the production for college audiences, director Contini hopes to introduce students unfamiliar with the source material to the parodic elements of Mel Brooks' original comedy. "I'm really trying to find a base level of broad comedy that will allow both the actors and the audience to explore the show as a kind of two-dimensional cartoon," said Contini. Contini's cartoonish mandate has influenced all elements of the production, from promotional materials to costuming to scenic design. 
While excited about the prospect of introducing the show to new audiences, Contini is equally excited to engage with fans of the original film. "I'm hoping the audience who knows the movie can lend the production a kind of 'Rocky Horror' atmosphere with people shouting out lines like 'he vas my boyfriend' and 'puttin' on the ritz' throughout the show!"
 
Despite its broad comedic appeal, "Young Frankenstein" took on an added significance for Contini – who suffered a severe knee injury at the beginning of the academic year that required a tissue graft. "After my leg was 'Frankensteined,' I realized that Brooks' humor was leveled at examining exactly the same human condition  at which Mary Shelley was aiming with the original novel – the most universal of human fears – Death. And how better to control that fear than through humor." 
As UGA Theatre's biggest show of the season, "Young Frankenstein" has provided a broad collaborative opportunity, bringing together students, faculty, and even alumni. John Terry, a recent graduate of UGA's MFA Acting program, has been assisting Contini in his directorial duties throughout the rehearsal process while professor of dance Lisa Fusillo has shared additional dance training and choreography. Scenic designer Melanie Stevens' daunting set has similarly required all hands on deck, necessitating dozens of movable elements to allow for easy transitions from scene to scene. 
"Young Frankenstein" marks the end of UGA Theatre's 86th season, and head of the department of theatre and film studies David Saltz says that "I can't imagine a more fun way to end this amazing year of theatre. Mel Brooks is one of the funniest men who ever lived, and George Contini is a comic genius in his own right. The combination of these two talents is sure to produce comic gold!" 
Cast:
Dr. Frederick Frankenstein – Sean Birkett
Igor – John Galas
Elizabeth – Emma Mathews
Frau Blücher – Lauren King
Inga – Jordan Richey
The Monster – Zachary Tate
Inspector Kemp – David Cowan
Hermit – Lucas Iddings
Victor Frankenstein – Josh Hudson
Ensemble – Caroline Caden, Vivian Lee Boulton, Kendall Lively, Isabel Arenas, Ciara Pysczynski, Lily Robles, Jeannie Thomas, Zachary Pareizs, Greg Lloyd, Alex Barlowe, Bryson Parker
Scenic Design: Melanie Stevens
Sound Design: Todd Curless
Lighting Design: Rich Dunham
Costume Design: Ivan Ingermann & Desiree K. Smith
Music Director: Rachel Townes
Choreography: Lisa Fusillo, Allison Hayn, Barbara Powers, Rustin Van Katwyk
Band
Drums - Kamran Main
Trumpet Joseph Reid
Trombone - Michael Brewer
Keyboards - Justin Sanders & Rachel Townes
Wood winds - Marc Gilley